Before you decide to spend money on TV you need to go over the pros and cons and see if it's a viable marketing strategy that will most likely produce a positive ROI for your business. Today, many lawyers are wondering if television advertising is still relevant or even effective, as most of today's legal marketing has shifted in focus to legal digital marketing.
In the last decade, the way people watch TV has changed drastically. Today, you can now binge-watch an entire documentary series on commercial-free streaming platforms, choose what time you want to watch an episode of your favorite TV series, and watch TV shows on your mobile device.
Also, television consumption has changed significantly; however, its effectiveness hasn't. TV advertisements are still the most effective way to convey your message to your potential clients.
The good thing is that today advertisers understand your target audience much better than they did several years ago. TV advertisements for lawyers can target specific audiences so you can receive a better return on your investment.
Today's technology offers attorneys more data on their potential clients so that they can understand the client's behavior and customize their marketing plans accordingly.
Benefits of TV Advertising
Television advertisements are a business boon because they can leverage the same message to reach large audiences. Commercials convey emotion, sound, and sight and offer viewers a conscious sense of trustworthiness.
Let's go over some of the benefits of advertising on TV and determine if you should invest in this strategy.
Your target audience
It costs the same to get low-value or high-value cases; however, the return on each type of case is very different.
Thus, to gain the maximum benefit off of TV commercials, make sure your advertisements are targeting the cases your law practice wants to pursue.
Overall mind awareness
Advertising your legal services to a potential client who needs to hire an attorney is one thing. Having a potential client think of your legal services automatically in a moment of great need is another benefit of TV advertising.
This is the magic of television advertising for lawyers.
Repetition
Repetition is an effective and easy learning tool for memorization. A person's mind is programmed to respond favorably to repetition.
The reason television advertising for attorneys is so successful is that it impacts larger audiences multiple times a day.
Ethics rules
Similar to other types of business practices, law firms face some challenges when it comes to advertising. Ethics rules put in place by different states bar impose restrictions on a law firm's ability to solicit potential clients.
However, television advertising is popular among attorneys because of the benefits it offers to the marketing restrictions that exist in the legal profession. Laws concerning legal advertising are similar in each state in the U.S.
For instance, under Georgia's law (O.C.G.A. Section 10-1-427) a legal advertisement must not contain statements or information that is misleading or fraudulent. Thus, you must make sure that your law firm's television advertising campaign adheres to the applicable laws and regulations for your state.
Georgia's State bar may deem a lawyer's advertisement as false advertising if:
Purposely misrepresents facts or leaves out information,
Expresses unjustified expectations of the lawyer's capabilities,
Compares their own legal services to another lawyer's legal services without substantiation, and
Mentions that a client won't pay anything unless their lawsuit is won without explaining other potential legal costs
Right place at the right time
Television commercials are all over the place, including in your own living room, doctor's office, hospital rooms, and retail spaces.
Thus, well-placed advertisements can help law firms land more multi-million-dollar cases. Relative to the legal field, reaching viewers at the right time and place is crucial to any marketing strategy.
Establishing strong relationships
TV advertisements establish connections between a law firm and its community. The value of a personal relationship can't be overstated enough.
A broad range of TV viewers will know you and your law firm the same way they "know" their favorite fictional characters and celebrities.
Television creates a sense of intimacy, which is what makes TV advertisements remarkable. You can personalize your TV commercial to make it more intimate.
Your competitors are advertising on TV even you're not
If you want to beat the competition in legal practice, you must be ready to spend large amounts of money to secure commercial space. Y
ou must create advertisements that are not only unique but also impactful--commercials that actually speak to your potential clients. That's the only to succeed in television marketing for lawyers.
You want to create a robust and lasting image that will help your law firm stand out from your competitors. Thus, you need to create a professional advertisement that will resonate with your client base.
First, you need to understand how your competitors are advertising. You can do this by watching some of your competitor's advertisements.
Also, you may need to work with a media buying company that understands your law firm and your market, and your legal goals to find out what makes your law firm unique.
Live events
People who enjoy watching live events, such as sporting events, mostly watch them on television instead of watching on a streaming service.
The market reach that TV has is still substantial despite the many alternatives for viewers. When watching live sporting events, the TV commercials aren't skippable, so advertisers desire advertising during significant events, such as the Super Bowl.
Super Bowl advertisements create word-of-mouth advertising even after the game is over. Large audiences for the Super Bowl and other large live events, such as the Oscars allow advertisers to leverage the large mass audiences that watch and engage with each other through social media networks.
Thus, there's a massive opportunity for national practice and local legal practices to take part in live events to gain prospective clients in all markets.
Fragmented attention span
Reports say that 70% of TV viewers use mobile devices when watching TV, and 87% of people aged between16 and 34 use a second screen while watching TV.
However, TV is still a powerful driver to consumers, especially when introducing a new product or brand into the market. Since most viewers have their second or third screens nearby them while watching television, they are likely to search for either the advertisement they saw or the product if it's valuable to them.
TV advertising can impact engagement directly through social media marketing and search campaigns when using the same language in both campaigns.
TV marketing and digital marketing campaigns' synergy can boost online conversions and help you track TV commercial performance using social drivers or hashtags.
What are the Trends in TV Advertising for Lawyers?
Law firms are spending nearly $900 million in television advertising every year. That's a 68% increase since 2008–a growth rate that outpaces TV spending by all other industries.
Leading the pack are trial lawyers, who are spending huge sums for TV ad space. Legal TV advertising grew by over 68% in the past decade, doubling its share of the local spot in television advertising. Legal television ad spending, unlike other major television advertising categories, such as restaurants, automotive sales, and product retailers, has consistently increased in the last decade. Here are 5 legal marketing TV Ads trends:
Trial lawyers are buying early morning and daytime spots to target the "most vulnerable populations."
The highest volume of TV advertisements from personal injury lawyers is in the Orlando and Tampa television markets.
Lawyers mostly advertise on local news programs and syndicated talk shows.
Attorneys are paying huge amounts of money for premium placement that comes with a right of first refusal for future ad space in that spot.
National law practices are advertising in many markets and some are even partnering with local law firms for regional trust, name recognition, and knowledge of the local legal environment.
Besides traditional TV advertising, attorneys are also major players in social media marketing and digital marketing. 20% of law firms say they have invested in content generation over the past two years, and 60% have hired an outside content generation or content management service.
Further, personal injury lawyers are infatuated with Google keywords. According to one report, 23 out of 25 Google keywords are for personal injury law firms.
Fewer law firms are relying on older advertising methods, such as search engine optimization (SEO) and pay-per-click ads.
Alternatives to Television Advertising
While television is still a popular form of entertainment for many it has gradually been trending down during the past six years. With that in mind you may find you are able to get better results with one of the following methods:
Social Media Advertising
Social media has become more popular in recent years than anyone could have predicted. Half of the world's population is expected to use some form of social media soon. Because of this, it has become one of the most effective marketing channels available.
Valuable opportunities for law firms and small businesses can be found on different platforms.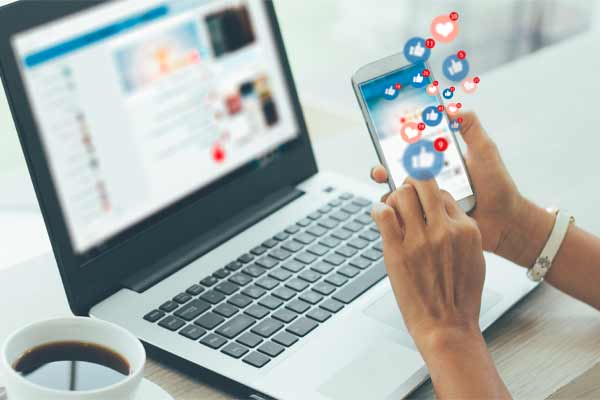 People can buy and run advertisements on platforms like Instagram and Facebook. Many businesses and law firms have found these to be a great investment.
Compared to other industries, the legal industry doesn't have a large following on social media. Lawyers can use social media ads to reach potential clients and make them aware of the services they offer. One of the best tools to personalize your target audience is Facebook Ads.
Pay-Per-Click Campaigns
Pay-Per-Click, or PPC, advertising is a common digital marketing strategy that places ads on websites and charges a fee each time it is clicked. The visibility of potential customers is increased by the placement of pay-per-click ads above search results.
Law firms can take advantage of this tool to maximize their digital marketing efforts. You can place yourself ahead of your competitors in online search results for the right words. PPC campaigns have a high rate of return on investment for the legal industry.
Search Engine Optimization
96% of people looking for an attorney use a search engine so you should do everything you can to ensure they see your website. Search engine optimization, or SEO, is the method of getting pages to rank higher in search engine results such as Google.
Ranking higher in search engines can lead to an increase in traffic to a website because it is one of the main ways people discover content online.
The higher a site ranks on a search engine the more traffic it typically receives. For an average search query, the top result typically receives 40-60% of the total traffic.
A small percentage of people, only an estimated 2 - 3%, click beyond the first page of search results. Investing in search engine optimization services can help your website can receive more traffic and business as a result.
Is TV Advertising Right for My Firm?
Advertising on television is definitely not for every law firm. The upfront high cost of running a TV commercial is something that most lawyers are not ready to give up.
If you don't have huge capital to market your firm, you're not alone. Another way and allegedly most profitable strategy that lawyers are turning to is digital marketing services.
Digital marketing and search engine optimization strategies are by far the most cost-efficient and sustainable ways to successfully grow your law firm.  At GoEngine, we can boost your law firm's bottom line by offering you a free initial consultation and marketing solution help for effective and targeted marketing for attorneys and law firms.