In this guide, we'll discuss how social media marketing can benefit lawyers. We will show you some top tips on how to create an effective social media marketing strategy that will help your law firm stand out online.
In recent years, social media has been a popular marketing platform for consumer brands. You see companies, such as Airbnb, and Wendy's dominating the marketplace with their brilliant social media marketing strategies.
With the massive audiences for these brands, it may seem as if some industries, such as the legal industry, aren't leveraging social media as a marketing medium. But that's not true because the use of social media in the legal industry is becoming increasingly popular.
However, some lawyers may still struggle to use social media channels effectively. This could be a massive missed opportunity because successful social media campaigns for your firm can help you attract more potential clients and develop valuable connections with your audience.
How Can Social Media Help Law Firms?
Do you have social media accounts for your law firm? If you are not, it's time to implement an effective social media marketing strategy.
Here are several ways law firms and lawyers can benefit from social media marketing:
Create brand awareness
Today, consumers spend a ton of time on social media. According to a report by Sprout, 44% of consumers have increased their personal social media usage.
So a strong social media presence can help you get your message in front of your target audience and increase brand awareness.
Engage your target clients
Consumers use social media not just to connect with their family and friends, but also to interact with content and engage with their favorite brands. This makes social media a valuable platform to engage with prospective clients and turn them to you when they need your services.
You could use social media to provide your target audience with relevant and engaging content, answer their legal questions, and solve their problems.
Attract potential clients
Social platforms are highly effective for attorneys to attract new clients.
According to the American Bar Association, 35% of law firms and attorneys who leverage this as a marketing tool have attracted new clients thanks to their social media efforts.
49% of participants in the previously cited Attorney at Work survey gained new clients through social media.
Establish yourself as a thought leader
One reason a social media marketing strategy is effective in driving potential clients to your law firm's website is that it helps you showcase your expertise.
You can leverage it to share valuable information and recent court cases that will help you prove your credibility and win the trust of your ideal client.
Improve your search engine optimization (SEO) efforts
Although social signals aren't direct ranking factors, there is a relationship between search engine rankings and improved social signals. We have discovered that being active in social media correlates to getting more visibility in search engines. This is why we include social media management in our SEO service for attorneys.
Further, Google continues to bring in dynamic content, such as social feeds into search results, so a strong social media presence may cause you to gain more online visibility on search results for your law firm's name.
Plus, an improved social presence contributes to an increase in web traffic and overall improvements in online visibility.
7 Ways Law Firms Can Reap Maximum Benefits From Social Media
Since social media profiles are very valuable for lawyers and law firms, you can't afford to not leverage this marketing channel to promote your legal services. Here are some of the valuable ways to get started using social media marketing strategies for lawyers.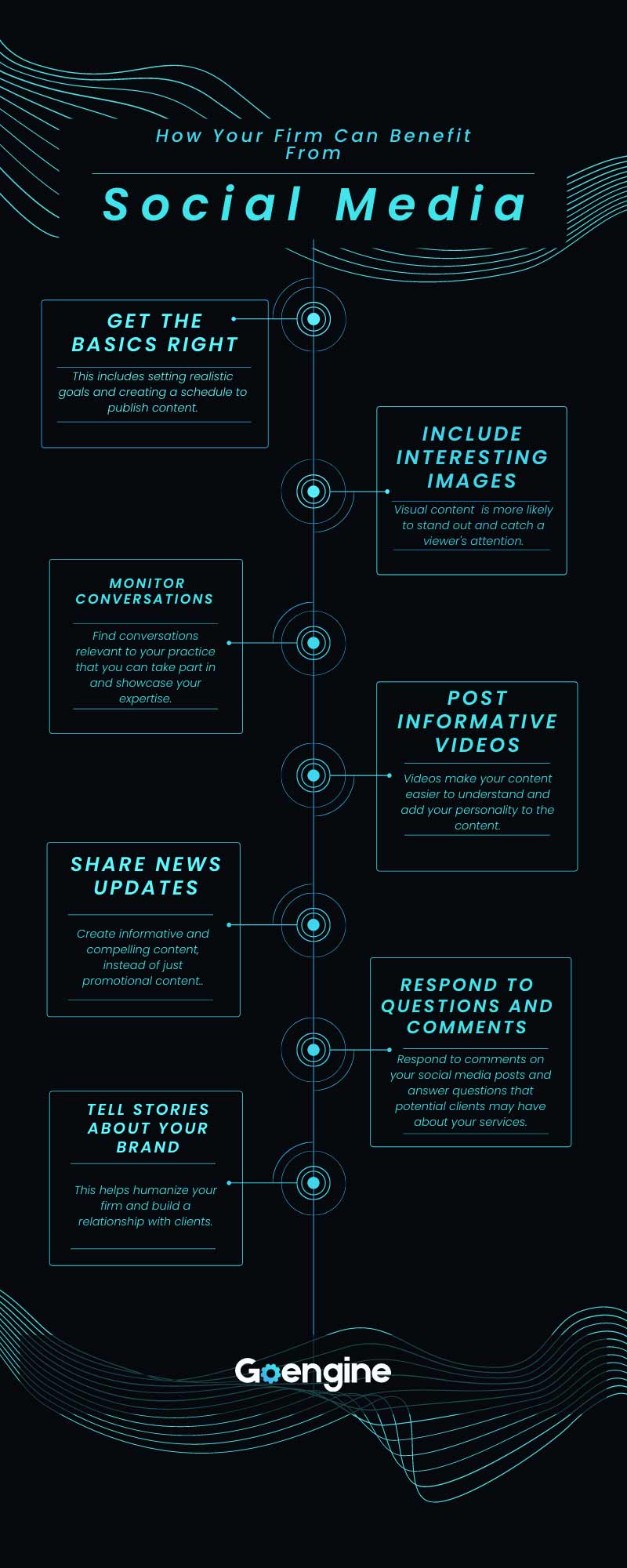 1: Get the Basics Right
Like every other marketing channel, to develop an effective social media marketing strategy, you must nail the basics of social media marketing. This involves:
Choosing the right social media channel to focus on. Start out slow by focusing on a couple of social media platforms that your target audience uses the most.
Setting measurable goals. What do you wish to gain from your social media marketing efforts? Do you want to improve brand visibility? Maybe you want to attract new potential clients or you just want to connect and engage with your target audience. Either way, have a clear framework of what you want to achieve using social media marketing.
Developing a content marketing strategy and calendar. What form of content will you publish? Do you want to create informative blog posts or video content? How often will you publish your content?

2: Share Valuable Content and Original Graphics with Interesting Facts
Visual content plays a crucial role in social media websites because they're more likely to stand out and catch viewers' attention over text content. So your social media content strategy should focus on creating visual content that will immediately attract and engage your potential clients.
You can share useful legal tips, inspirational quotes, industry updates, and basic legal information through graphics that stand out. This is especially crucial if you plan to use image-focused platforms, such as Instagram. Make the most of free design platforms, such as Snappa and Canva, to create original graphics.
3: Monitor Conversations Around Your Law Firm
One of the primary purposes of social media for law firms is brand monitoring. Perform branded keyword searches on social media to look for conversations and content around your firm. This is a brilliant way to understand what prospective clients are saying about your law firm and how they feel about you.
You can even find conversations that you can take part in and showcase your expertise, such as a discussion about topics that are relevant to your legal practice.
If there are controversies and debates going on in that legal space, being aware of conversations will help you stay up to date on any relevant recent developments that can help you serve your clients.
4: Create Educational and Informative Videos
Informative videos are another crucial component in social media marketing for lawyers. Videos make your content easier to understand and they allow you to add your personality to the content. This makes videos a lot more engaging than other types of content.
Creating video content will appeal to a significant portion of your audience that prefers to consume video content over written content. Regularly publishing videos to tell interesting stories, explain relevant topics, and discuss trending topics can boost your engagement.
Worth Reading: Video Marketing for Lawyers
You can even conduct interviews with industry experts and thought leaders and leverage their reputation and authority in it to attract new viewers.
5: Share Valuable Blog Content and Legal News Updates
The best way to use social media for lawyers is to create informative and compelling content, instead of promotional content. The more you provide credible and valuable content, the better you'll showcase your legal experience.
In the legal industry, your ideal client won't make a decision whether to hire you just based on promotions. They would consider your expertise and credibility and your experience before they decide to hire you.
Related: Blog Tips for Attorneys
This makes it essential to share compelling content and industry news constantly with your prospective clients. And don't limit yourself to web content from your own blog. Curate content from reputable industry blogs and other relevant sources.
6: Respond to Queries and Comments
Utilizing social media provides you with a channel to build valuable connections and engage with your social media followers. Today, consumers depend heavily on social media as a brand-consumer communication platform.
A 2019 report by Sprout shows that 47% of consumers reach out to brands on social media sites because they have questions about a product or service. 40% of consumers do so because they have had a negative experience, while 31% of consumers do so to share their suggestions and ideas.
So make the most of social media marketing activities to connect and engage with your target clients. Respond to comments on your social media posts and answer questions that potential clients may have about your services. Show your target audience that you're listening and that you're ready to help them.
7: Tell Your Stories About Your Brand
Law firms can also leverage social media to tell stories about their brand. This is highly effective for humanizing your law firm and building an emotional connection with your ideal audience. So you'll have an easier time winning their loyalty and trust.
You can share stories about your law firm's history and achievements. Also, you can leverage social media to put your lawyers in the spotlight and put a human face to your firm.
What Social Networks Should Law Firms Consider?
With multiple social media networks to choose from, it's worth knowing the basics and updating yourself with what's new with each platform before you invest your time in maintaining profiles on various platforms.
Depending on factors, such as your target audience, practice area, and the type of content you'd like to publish, some social media channels may be better suited than others.
LinkedIn and Facebook have different target customers, and you'll rarely share the same content across both social media channels.
Facebook
With 2.89 billion monthly active users, Facebook is among the most popular marketing channels in the world.
Also, it's popular among legal professionals, with overall usage growing to 63% in 2018. Although the market you can tap with Facebook is exponential, you need to be cautious.
Facebook's algorithms prioritize family and friends' posts in the News Feed, which means your chance of having your posts viewed is on a short timeline.
It goes without saying that if your social media post on Facebook isn't being seen by your ideal audience you're just wasting your time.
LinkedIn
LinkedIn is the most popular social media channel among lawyers in the United States with more attorneys using it than any other social media platform, even Facebook. This is because this platform is centered around business.
LinkedIn is built to promote your professional personality and build strong connections with other attorneys and professionals in your industry, which is useful for gaining referrals.
It's essential to make sure your LinkedIn profile is an accurate reflection of you and your law firm. To create a better LinkedIn profile:
Be professional. Use a professional photo as your profile picture.
Create compelling content. Write a great headline, meaningful profile description, and concise summary with relevant information about your experience in the legal industry. If you find it daunting to write about yourself, you can hire a freelance writer to help with your profile.
Stay relevant. Curate your LinkedIn profile to feature career highlights that are relevant to your current legal practice, business goals, and focus, so visitors to your landing pages can easily learn about the lawyer you are today.
Twitter
Although Twitter is less popular among lawyers, it provides some unique benefits for legal professionals because:
It's concise. As a microblogging platform, Twitter limits your tweets to 280 characters —forcing you to be succinct.
It's efficient. Thus, when scrolling through your Twitter feeds, you can consume headlines and highlights for a wide range of matters in a short period.
It's instantaneous. Twitter offers near-instant updates on information and news.
If you're just getting started on Twitter, follow influential professionals in your industry, both as a source of social media motivation and as a means to stay engaged with thought leaders that share content about the issues that are relevant to you and your audience.
YouTube
Though it's a less popular choice for attorneys and law firms, YouTube gives you a chance to share video content with your social media followers.
Using videos makes it easy to display your personality to your target audience, helping them feel like they know you before they even meet you which can make prospective clients feel comfortable.
However, before creating YouTube videos for your law firm, make sure that:
You can make high-quality videos. Your titles, video quality, production, and lighting should be clean and professional.
You're comfortable speaking on camera. If you're making videos where you speak to the camera, make sure you have a strong on-camera presence.
You have something informative or valuable to say. Videos are an incredible opportunity to convey authority, but make sure your content is interesting and that it follows social media policy.
Instagram
Instagram is an image and video-centered social media platform, which may not make it a good fit for all law firms. However, if you're in a consumer-focused area of law, such as personal injury, Instagram offers a great way to connect with your target audience on an individual level.
For many lawyers in the right practice area, Instagram is a good social media platform to leverage and humanize yourself and your law firm.
Posting valuable content related to your work in the community and lifestyle can help you showcase a positive persona. To maintain a professional Instagram page for your law firm, you should:
Make your content easy to find by using location tagging and hashtags if possible.
Post high-quality photographs that convey a professional and polished image.
Be extra careful when posting on Instagram not to violate any social media rules for lawyers and don't accidentally break confidentiality with your client's information.
Don't Have the Time to Handle All of Your Social Accounts?
Your firm's social media strategy doesn't have to be complicated. In fact, there are many ways to leverage social media to boost audience engagement and drive new leads. However, it's essential to note that there's no one-size-fits-all approach to social media marketing for lawyers.
Over time, you'll discover what social media marketing works best for your law firm and you'll maximize your return on investment.
Thus, if your law firm isn't active on social media, you're missing an enormous opportunity to promote your legal services, drive prospective clients to your website, and boost engagement.
GoEngine can help you create a strong law firm marketing strategy and we can help manage your current social media profiles. Contact our social media marketing experts today for a no-cost initial consultation.