The biggest challenge facing personal injury lawyers and law firms in 2022 is client acquisition. How do you keep potential clients coming in the door and signing on with your firm? Legal marketing, specifically search engine optimization for personal injury attorneys, is the most competitive and expensive vertical of all local services.
In April 2020, Hubspot did a study on 10 industries, analyzing 10,000 keywords per industry to determine the most expensive keywords on Google Ads. They documented the 15 most expensive for each industry and of those 150, the top 15 most expensive keywords on Google Ads were ALL personal injury-related, with the highest CPC being nearly $1,100!
While this may sound like a staggering number, when you consider the potential value that every single case brings to the table, it makes complete sense. If your average case is worth $5,000, would you have any problem paying for leads at a rate of $250 per lead? $500 per lead? Even assuming you only convert 1 in 4 leads to an actual case, you would likely, and smartly, jump at the opportunity!
But is paying for the leads the only way for personal injury law firms to get cases? Of course not! There are numerous other methods of building a digital sales funnel for your law firm, so let's jump into the 5 pillars of personal injury marketing and growing your digital presence.
1) The Website - Your Digital Brick and Mortar
Your law firm's website is where it all begins. 97% of all consumers begin their search for local services online, so the first impression a prospective client will have of your personal injury firm is through your website. As such, your website should be a professional representation of your firm, putting your best foot forward to people from the moment they find your site.
Studies show that nearly 15% of all SEO leads will close, dwarfing the 1.7% conversion rate of outbound leads. Let's go through the necessary components of a high-quality law firm website, and if you considering having a website built, check out our guide to how much a law firm website should cost.
Mobile-Optimized
Having a mobile-optimized site should be your number one priority. You can have an amazing, website with great content, but if your site is not optimized for mobile, it is likely that none of it will matter. In March of 2022, Google will move ALL websites to mobile-first indexing so the time is now to make this change to your website if you have not already. Additionally, not only will you suffer the wrath of Google, but users will punish you as well if your site is not set up to function properly on mobile devices by quickly bouncing away from your site and not converting into clients.
Fast
With the introduction of Core Web Vitals to Search Console in July of 2020, Google has made it easier for webmasters to have a better picture of the quality signals they are using to rank sites. While it is debatable just how much of an impact these signals have on search engine rankings, what is not debatable is the impact it will have on visitors to your law firm's website.
We all know that people have incredibly short attention spans nowadays, and studies have shown that this holds true for websites with more than 50% of users saying they will bounce from a website that takes longer than 3 seconds to load. You simply cannot afford to have a slow loading website.
Unique, Informative Content
All too often, we see personal injury attorney websites that are severely lacking in relevant content. Studies have shown that long-form content is the best route to go for the legal industry, and while there is no hard and fast rule for how long your content should be, there are a couple of factors to consider.
First, what is your competition doing? If the top ranking sites in your area have a significant amount of long-form content, don't expect your site to rank if you only have a couple of paragraphs. Second, what are users looking for? For most injury firms, people begin their journey by asking questions about their specific circumstances. Providing comprehensive, authoritative content that addresses user intent is a sure-fire way to see your firm's website rankings rise!
Keywords - Know What You Want to Rank For
When laying out a website, understanding the journey of a user through the sales funnel is vital to figuring out what keywords you want to rank for and what it will take to do so. Put yourself in the shoes of someone who has just been involved in a car accident. For most people, the first thing they will do is begin by asking questions in a search engine.
Questions like "What should I do after a car accident?", "How much can I get for my car accident claim?", and "How long do I have to file a claim after a car accident?" are likely to be some of the first searches a user will conduct when they begin to seek an injury attorney. These keywords are known as navigational keywords, because they help users navigate to the information they need. The most effective way of doing this is through regularly scheduled blogs and faq content. This is step 1 to draw potential customers into your sales funnel.
Now that you have prospective clients in your sales funnel, what are you going to do to convert them into paying customers? This is where your practice area pages come into the equation. If you provide legal representation for a specific type of case and want to attract customers, you need to have a geographic-specific legal practice area page.
These are pages like "Atlanta Car Accident Lawyer", "Houston Slip & Fall Lawyer" and "Los Angeles Wrongful Death Attorney". Terms like this, known as transactional keywords, are often the last search a potential client will do before choosing which lawyer they will hire, and if you do not have a page dedicated to ranking for these terms, you run the risk of not being found. Think of these pages as your sales page, where you can address any questions a user may have while also touting what your firm can do to help them.
2) Google My Business
For any business providing a product or service in a specific geographic area, dominating in local search should be one of your top priorities. With over 3/4 of users (77%) reporting that they use Google Maps (Google My Business - GMB) to find businesses nearby, failing to show up in the map 3 pack is a big problem. While it is easy to say you need to rank in the map pack for local search, making it happen is a much more difficult matter. So how do you snag one of these 3 valuable search positions?
Give Users (and Search Engines) What They Want!
When you create a Google My Business listing, you will notice that there is quite a lot of information that you can provide. The rule that we live by is that if Google provides a field, and it is relevant to your industry, FILL IT IN! No matter how minimal you think a piece of information is, provide an answer.
Don't just put that you are a personal injury lawyer, list out and give a brief description of the types of cases you handle. Make sure to include pictures - preferably geotagged - of the attorneys and staff, and your office, both inside and out. The search engine's goal is to provide users with the most relevant, authoritative result possible; by leaving information off of your business listing, you are decreasing the likelihood that your listing will show up.
Reviews
People trust other people's opinions when they are looking for a local service, to the tune of 93% of consumers saying that reviews influenced their purchase decisions. Whether it is which restaurant they go to tonight or what lawyer they hire after a car accident, what past customers have to say is extremely important to the end-user and Google. A bad review, especially a recent one, can prevent potential clients from contacting you. Make it as easy as possible for your satisfied clients to give you a glowing review on your GMB.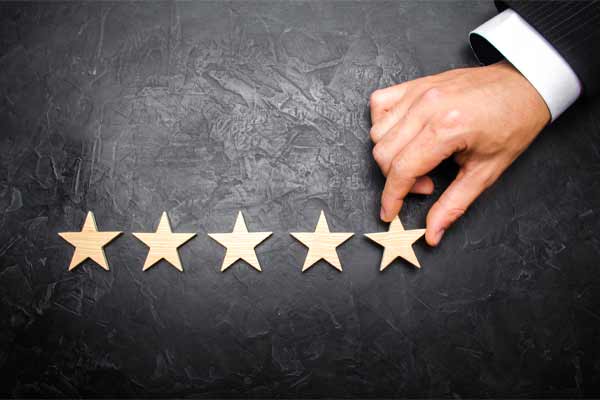 This is done in two simple ways: Asking for an online review, and providing clients with the information they need to do so. Including a link to the review submission page on your digital correspondence with clients along with a link from your website are two excellent ways to see your number of reviews increase. You also want to make sure that you are responding to your reviews as soon as possible. Be responsive to what your customers have to say, they took the time to leave a review, take a moment to say thank you.
Relevant Local Content
Being involved and posting about things that are going on in your area is a great way to not only show Google, and potential customers, that you are where you say you are, but that you are also a part of the fabric of your community. If you have participated in a local charity event, or done some type of volunteer work, create a short post about it with an image. A steady mix of location-specific content plus topically relevant content will create a solid feed of information that users can go to and learn more about what you do and who you are.
Directories & Citations
Having your firm listed in directories is a proven way to improve both local and organic results. You can group the directories that you want to be listed in two groups, geographically relevant and topically relevant. For local SEO, you want to make sure that your firm is listed in every reputable local directory that you can find.
Things like the local Chamber of Commerce, Better Business Bureau, and Yelp are all places where you can have your firm listed, providing a citation, which is a validation of who and where you are to Google, while also generating a backlink. These are geographically relevant, but you also want to be included in the topically relevant directories as well - think avvo.com, superlawyers.com, etc.
You want to make sure that the way your business is listed (NAP - name, address, phone) on any directory is IDENTICAL to how it appears on your GMB listing. Be aware that some of the lawyer directories offer enhanced services for a fee, but in most cases, you can at least have your firm listed for free.
Google is constantly tweaking and adding features to the GMB platform. Stay abreast of the updates they are making and be sure to update your listing accordingly, your competitors certainly are!
3) Paid Advertising
When you do a search on Google for a personal injury attorney, what is the first thing that you see? Paid Ads! Running ads on Google, and social media platforms like Facebook, LinkedIn, and Instagram, is a surefire way to get your business in front of potential clients. Increasingly, search engines are taking up the top of search results with paid ads, to the point where some search terms show no local or organic results above the fold.
For injury attorneys, as we noted in the introduction, paid advertising can be quite expensive. The legal industry consistently takes up a chunk of the top relevant keywords for cost per click amongst all Google AdWords and has one of the highest average costs per click of any industry. While the costs can be significant (depending on where you are located), paid advertising for attorneys is one of the quickest ways to get results when done right.
Pay-Per-Click / Pay-Per-Call
Traditional Pay-Per-Click marketing charges you every time someone clicks on your advertisement, and with the cost per click ranging well over $100 for many target keywords for personal injury law, it can be quite pricey. With that said, if you want to see fast results and your firm has the money to spend, PPC is likely the most viable option because even though only 10% of users click on ads, 64.6% of those users have purchasing intent. When utilizing PPC, understanding exactly what you are getting for your money is critical, so it should always work hand in hand with in-depth analytics and a conversion rate optimization strategy.
Pay-Per-Call advertising changes the model from you being charged every time someone clicks on your ad to the charge being associated with someone calling you (through an ad extension, mobile-only). Again, a clear understanding of what exactly you are getting out of this type of SEO campaign is vital to ensure that it is cost-effective.
Branding
As we noted above, ads appear at the top of the Google Search results for many search terms. That real estate on the SERP is EXTREMELY valuable, and even though the majority of users never click on an ad in search results, they still see your name. Brand recognition is a huge deal for injury firms, and online ads have been shown to increase brand awareness by as much as 80%. Because of the nature of your business, where a personal injury client only needs your services when something has happened, being the first name they see is extremely valuable.
Social media platforms like Facebook and Instagram are a great way to get your business in front of a large number of people. Because of their massive presence in the lives of billions of people, utilizing these platforms creates brand awareness and puts your firm at the top of peoples' minds when something bad happens to them. Some platforms, like Instagram, aren't immediately evident that your post is a paid ad!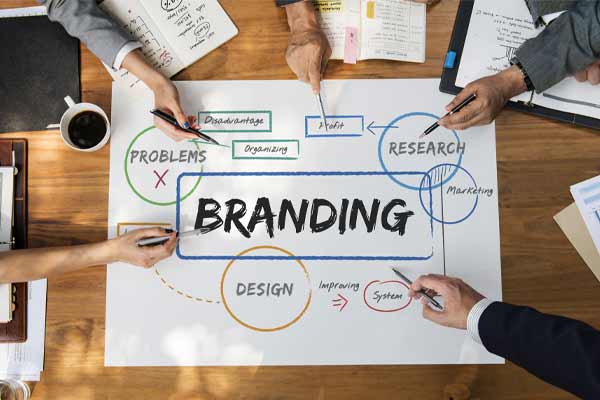 Retargeting (Remarketing)
One of the most cost-effective methods of paid advertising is retargeting ads. Retargeting means that when someone visits your site, they will begin to see your ads on sites that support them. Because very few people go to one website, make a decision, and immediately buy, this type of online advertising is very effective and much cheaper than traditional pay per click.
The evolution of retargeting is custom intent. Instead of only showing your ad to people who have already visited your site, now your ad is being shown to users who have visited your competitors or searched for specific terms (both defined when you set the ad up). Now you are not requiring people to have found your website first to be shown your ad, allowing you to cast a much wider net and potentially pull clients away from other attorneys. There is also the tangential effect of driving traffic to your website, which has considerable value by itself.
Premium Listings
Another less frequently utilized method of paid advertising is premium listings on legal directories. Because of the strength of websites like findlaw.com and avvo.com, they often rank on the first page for high-value organic search terms. While they may be competing with you for SEO ranking positions, you can put their results to work for you by utilizing their premium listing offerings.
For most, you pay a monthly subscription fee to ensure that your business listing is given a priority space on the first page of their results for your practice area in your city. This type of paid advertising is not effective in all markets, but giving yourself as many chances to be found as possible is the name of the game!
4) Social Media
Social media marketing is frequently seen as the red-headed stepchild of law firm marketing SEO campaigns. While social media should not be the primary focus of your digital marketing plan as a personal injury law firm, it is a valuable form of advertising that should not be overlooked. As we mentioned above, the massive reach of these platforms provides ample opportunity for you to expose your firm to the masses, long before they may even need you. You can expand your retargeting efforts to include social platforms, use them to get valuable online reviews from clients, expand the reach of your navigational content, and increase your brand recognition exponentially.
Another, often underestimated, aspect of social media is the human aspect. Whether it is on Facebook, LinkedIn, Instagram, or Twitter, interacting with people in a real way can help build an audience where you did not previously have one. While this may not always directly result in leads, what it can do is create opportunities that did not previously exist.
Think about it this way; you are on Twitter and see a post from a reporter asking a legal question for a story they are writing. You provide them with an answer and as a result, you are cited in their story. Not only does this expose you to people who may have not been aware of you, but it can generate a backlink to your website! This is a simple and very basic example, but it serves to illustrate the point that social media interactions can be beneficial in ways that many attorneys and marketing firms don't initially consider.
5) Comprehensive Tracking and Analytics
The only way to know how your law firm marketing strategies are performing is by tracking EVERYTHING! While we can discuss the things that work, personal injury lawyer marketing is not some type of cookie-cutter, "do these things and be successful", one size fits all endeavor. To be successful in your marketing campaign, you must be willing to fail, but you have to know when you are failing, be able to determine why, and make the changes necessary.
Tools like Google Analytics and Google Search Console are excellent for analyzing what is happening on your website, how people are interacting with your site, and how consumers are finding you. You also need to be able to track all of your calls, form submissions, and web chats.
By tracking as much data as possible, you can accurately determine metrics like your cost per case and return on investment. In the marketing world, return on investment is one of the most important numbers to know; obviously, you don't want to continue doing something that is losing you money and you also want to be able to redirect marketing funds to increase the budget if something is generating a great return.
One common mistake that we often see is clients who have bounced between different analytics tools and then attempted to compare them. The problem is they are often working from different data sets, making comparisons a fruitless endeavor. Do your research, find the tools you like, and stick with them. Data is King, so collect as much of it as you possibly can and analyze it for strengths and weaknesses.
GoEngine is Here for Your Law Firm Marketing Needs
Think this all sounds a bit intimidating? It doesn't have to be! For most law firms who do not have a dedicated in-house marketing department, the best way to develop and implement an effective inbound lawyer marketing strategy is by outsourcing it to a dedicated marketing firm, like GoEngine. If you are in the market to expand or improve your law firm's marketing, be wary of marketing agencies that try to sell you on overnight results or make promises that sound too good to be true.
There truly are no silver bullets, so if you speak to someone that tells you they know all of the secrets, you likely need to look somewhere else. You can also check out our Ultimate Guide to Law Firm Marketing for 2022 here. Contact GoEngine today if your personal injury law firm is looking to grow with a partner who cares about your long-term success, growing your online presence, and will provide transparent advice, exceptional customer service, and has a history of delivering great results!