Live chat services enable lawyers to provide immediate support and information to the people visiting their website. Installing a live chat service on your website will ensure potential clients chat with lawyers in your firm and receive a quick response. Offices get closed, and people go home, but the internet never sleeps.
Individuals looking for legal services online want to get information about the professional service a law firm offers. They as well want queries about their pressing legal issues answered. Having the right information when people need it will enable them to make informed decisions. Every law firm needs to be able to provide information and support to their clients past business hours. This is the reason why live chat services for lawyers are essential.
There is increased popularity of virtual receptionist software, live chat, and virtual law firms. The software has become a vital tool for lawyers. With the increased demand for software, there are many live chat companies in the market today. You must choose the best live chat services for lawyers in your law firm.
To do that, you have to consider the features that the software has, your lawyer's needs, and the software's affordability.
We have worked with dozens of law firms all over the world and have learned a thing or two on how to produce more leads and increase conversions for our clients. Having a live chat service is a crucial key for any attorney that wants to generate more business 24/7 at a low cost.
What to Look for When Choosing the Best Live Chat App
Live chat user interfaces are not created equal. Aside from an affordable plan and annual plan, while looking for the best chat app that has a suitable package there is a lot to consider. Lawyers & law firms will as well be worried about the impact on conversion.
24/7 Access
This will help ensure the visitor visiting your website and interacting on your website is a legit potential qualified lead. The interaction helps in creating relationships that lead to firm lead generation.
Phone Transfer Option
Not everyone will be attracted to the chatbox. Some clients will still prefer phone call conversations. Being able to have a phone call transfer option will prove to be beneficial to most firms.
Data and Analytics Integration
The dedicated chat service you are using should help with visitor tracking. Through visitor tracking and communication with visitors, you'll have info on potential clients. The enhanced chat feature will enable lawyers & law firms not to miss out on a potential lead.
Potential for Live Operator Interaction
Before hiring lawyers & law firms to represent them, some clients will prefer to have more than a chat box interaction. When your messaging app has a personal touch can lead to you getting a client since the other person feels that they are talking to a human operator
What Are the Best Live Chat Apps for Law Firms?
There are a variety of apps for lawyers that you can choose from. It is crucial to evaluate affordability and why you need the app. Here are some of the chat services for law firms that you should consider:
ApexChat
ApexChat is a prominent player in the law firm live chat service field, used by over 2,000 law firms and over 6,500 businesses.
Apex allows your firm to brand your chat and provide customers 24/7 support and live call transfer functionality. If having someone available 24/7 is not what you need, automated responses are available.
Geo-targeting, text alerts, excellent customer service, and pay-par-lead options have allowed Apex to distinguish itself from other providers. Apex law firm's live chat app is easy to install and captures more of your firm's leads. ApexChat focuses on various services like home-based, education, marketing, and medical agencies. It uses English and Spanish languages that most people are comfortable with.
Mention "GoEngine" when you signup for Apex chat to get $100 off the setup fee 💪
LiveChat
LiveChat is a highly respected and stable provider with over 26,000 clients in 50+ countries. Featuring an easy-to-use app, with live representation available 24/7, LiveChat provides strong support, seamless integrations with over 130 tools, and multilingual functionality. Additionally, they have a proprietary mobile app that allows for live chat!
LiveChat pricing is relatively favorable as it ranges from $16/month/agent to $149/month/agent in case of an enterprise. The most favorable package for law firms is 50/month/agent billed annually. LiveChat services offer a 30-day free trial to its customers.
You'll love the services that LiveChat offers for your law firm as it serves customers who are multilingual with support of 45 different languages. Try it today and all your chat issues will be solved.
Podium
Podium's webchat service offers a convenient way to do live chat. Instead of having your potential leads be tied to their computer or a browser on their phone, Podium lets you communicate via text. This results in a better experience for customers and an easy way for you to manage chat intake.
When someone visits your site, they can use Podium's LiveChat button at the bottom right corner of the page. They enter contact information and their initial message. When their message is submitted it and their contact information is directed to your Podium account. Your response and any of their subsequent messages are sent to the recipient's phone for simple communication.
Podium offers a 14-day trial and has three tiers of plans available, with a variety of features. These plans are $289, $449, and $649 per month but have the option for discounted annual payments.
Ngage Live Chat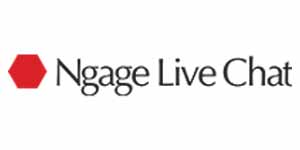 Ngage live chat platform has highly trained operators who provide customized experiences that provide visitors with a comprehensive experience. Using a discrete chat application, Ngage creates a strong relationship between your law firm and potential clients. Ngage prides itself on always capturing and forwarding crucial information to make your intake, as well as sales, process as efficient as possible.
Featured on 8,000 business sites, Ngage is a major player in the law-firm chat industry, gearing its service towards law firms specifically. Other great features of Ngage are its 24/7 availability, live chat transfer, and integration to Facebook messenger.
The Ngage live chat app pricing is pay-per-lead. You will also enjoy a free trial for your business. The Ngage app is very efficient at handling live chat for lawyers. It comes in two languages, English and Spanish.
Client Chat Live
Back in 2008, most law firms were not able to respond to leads immediately. This called for the creation of live chat services and CCL was one of the first companies to answer the call. Client Chat Live is a well-establish chat provider that focuses on the legal industry.
Providing guidance throughout the process, allowing for easy installation, branded chat boxes, and professional operators available 24/7, CCL is a leader in the industry. With monthly reports for immediate chat transcripts and customizable scripts and responses, Client Chat Live is a great option for attorneys who handle lots of chat leads.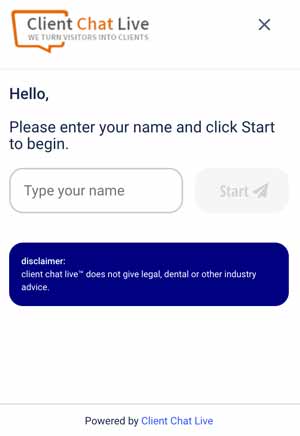 Pricing is provided on request, so it is not always clear what you may be paying on a monthly basis, but flat-rate pricing is also available. The App has a 14-days free demo service. It is partly used by law firms, but also has a focus on small businesses and medical agencies. It uses English and Spanish languages.
Ruby
Founded in Portland, Oregon, Ruby offers live chat services fora. variety of business types including law firms. The application allows users to communicate with your business at any time, even when your business is closed. Ruby can be integrated with other tools you may be using, including Clio, MyCase, Lexicata, and Rocket Matter. 
Ruby has three chat plans at $129, $299, and $469 per month and also offers bundles that give you access to their call answering services. While Ruby does not offer a free trial they have a money-back guarantee if you are not satisfied with their services and cancel your plan within 21 days.
Smith.ai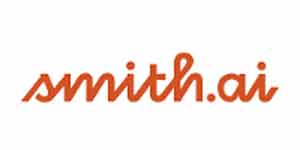 Smith.ai's live chat is a fast and convenient method for capturing, screening, and converting website leads. Their agents answer questions, screen leads & schedule appointments 24/7. Their screening process covers basic questions to ensure you only pay for relevant chat leads.
Smith.ai has several payment plans available, ranging from paying no monthly fees, just $10 per chat lead, all the way up to $600 a month for 120 chat leads with any going over that limit costing $5. They do not offer a free trial but have a 14-day money-back guarantee and their strictly pay-per-lead option would make a good cost-effective trial for smaller firms.
Zendesk
Zendesk chat is another solid option to help your firm best serve clients. With over 30,000 businesses utilizing their services, Zendesk offers an entire products suite in one chat function. It allows company branding, with strong customer support in addition to features such as pre-chat triggers, reporting, file sharing, chatbots and ratings, offline firms, and others. While all of these features are available, you do have to pay for them on higher-tiered plans. Also, there are no integration functions, so your entire firm will need to use Zendesk, not just your website chat.
The best pricing package for most law firms is $29/month/annually agent billed. However, other packages include an annual plan that goes from free to $59/agent/month. They also offer a 14-day free trial plan. The chat widget offers multilingual support. Try the Zendesk chat app and you'll enjoy great services at reasonable prices.
Different chat service options suited for the legal industry have different pricing plans and features. You should evaluate the chat program and see the specific features that your business needs. The pricing should be at the top of your list of what you should consider before choosing the best live chat service for your law firm. Choose a chat platform with a payment plan that your business can afford.
Tidio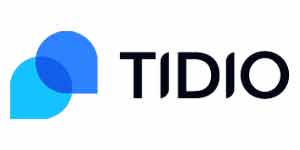 Tidio Chat is an excellent solution for small and medium-sized businesses. It's inexpensive, it has a large number of features, has a good number of integrations, and a 7 day free trial.
Tidio offers a free plan that includes three operators, 100 unique reachable visits, unlimited chats, and third-parties app integrations. You can also use this plan to create a chatbot on the platform.
The ChatBots program costs $39 per month, has unlimited reachable visitors, allows for unlimited chatbots, three operators, chatbot templates, and a visual chatbot editor.
The Communicator plan is $19 per month for each operator and offers live chatting, viewing page views (per visit) for each session, a live visitors list, permission settings, and note fields.
CUGIC
CUGIC is known for its affordable pricing, ease of use and installation, and complete customization. Using proactive chat requests, website visitor tracking, and social media integration CUGIC has a diverse client base spread across 60 countries.
CUGIC has pricing plans starting from $9.50-$35/month with unlimited chats. It also offers free services for 2 agent accounts with 2 concurrent chats. Many clients prefer $16/month for an annual agent billed plan. It also has a 4-day free trial service for its subscribers.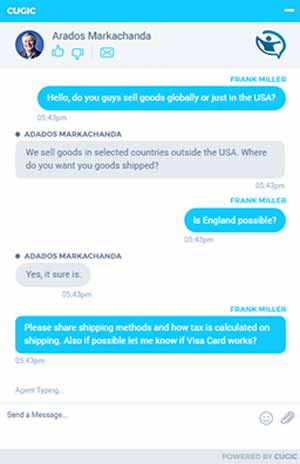 CUGIC mostly focuses on law firms, but sometimes it provides other businesses' chat services like e-commerce, real estate, financial, and higher education services. It supports multilingual services using a widget translator.
Intercom
Intercom is a web application development company based out of San Francisco. It offers its clients an online message board for customer communication. They use a combination of messenger and inbox, which helps them capture, qualify, convert and measure their lead generation efforts.
Intercom offers a 14-day trial and has four different plans. The Start plan at $39/month, their Grow plan at $99/month, Accelerate plan at $499/month, and the Scale plan at $999 a month. Newer businesses are able to reach out to Intercom to apply for the Grow plan for a discounted rate.
FreshChat
FreshChat provides a modern messaging app at affordable prices. Their platform is known for its easy installation and numerous unique features like a sales bot, intelligent message routing, and integrated self-service. Additionally, FreshChat also provides multilingual support.
Conversely, there are some detriments to using Freshchat. They do not offer a screen-sharing feature and it is not possible to export conversations. Also, we have found that compared to other providers, their support response time can be quite slow.
The pricing goes from $19 to $99 monthly for various functionality based on reporting, hours of usage, language required, helpdesk requirements, etc. However, if you have decided FreshChat is the best option for your firm, annual billing is the best package at $39/month. For limited functionality, FreshChat offers free pricing.
If you are looking for an entry-level chat service, FreshChat has a 30-day free trial, with $39/month for multilingual support.
Why Should I Consider a Chat Service for My Law Firm?
As a law firm, if you have a way to quickly communicate with the people visiting your website, it can help gain new clients. A live chat service is an additional solution to the advertising and online marketing efforts you are already making. The live chat service will come in handy when a potential client engages you online. You can immediately answer them and even book an initial consultation with them.
The American bar association has stated some ethical rules for lawyer's websites. When you have a better understanding of what is acceptable and what isn't acceptable, you can concentrate on the benefits of a lawyer's chat services.
It is Easy to Get Started
Installing an excellent customer service tool on your website is not too technical and will not take a lot of time. An installation team will be able to get the software running on your website within a short time and offer their installation team guidance. When a dedicated team installs live chat installed on your website, you are now left waiting for visitors to visit your website.
When visitors visit your website, a chat window will immediately pop up and they'll get the message that you or another qualified personnel is on standby waiting to offer assistance. When they engage with the live chat messenger, you will get a notification, and the chart session can start.
Chat services are different, and they offer packages and features that vary. Chat service software can provide bots that allow you to have a chat script to engage visitors with prompted questions meant to get their contact information.
Gives a Good Impression of Your Business and Establishes Trust
The legal process is not enjoyable for most. For this reason, when the average visitor is in search of a lawyer, they want to quickly find the best person to offer legal representation and get done with it.
For a prospective client who has just landed on your website, a live chat service will help create a good impression of you. The swiftness of the active person to engage in a conversation with them and tend to their needs will help you build trust. It is a great way to meet individual needs and ready them for an initial meeting.
The in-person approach in the live chat session will leave them feeling relieved and listened to when the conversation ends. It is a better option compared to filling out a contact form with their contact details and waiting for a response. This option will help boost appointment rates.
It Helps You Set Apart Your Legal Services from the Rest
Lawyers are constantly looking for ways to set themselves apart from other businesses and stand out. A live chat feature allows your business to provide 24/7 hours services to prospects and address their needs past business hours.
Clients who may be in dire emotional distress and need a quick response include; those going through a divorce, personal injury victims, those facing criminal charges, and others. Taking swift action when they are looking for help will enable you to win them over and take care of appointment scheduling at the same time.
Live Chat Apps Pros VS Cons
A live chat tool on your website is a significant change that will significantly impact the customer experience. Here are some pros and cons that will help you assess if a live chat service fits into your business.
Pros of a Live Chat Service
The main benefits of implementing a chat service on your site are:
It will enable your customers to have immediate access to you. Clients and potential clients need to get quick access to you when they want their questions answered. It makes them feel valued, and they are ensured that what they have to say is important. Knowing there is an active chat agent waiting to speak to them helps build confidence.
It is an excellent use of time for employees. Instead of employees taking an unspecified amount of time tending to a call from a client, they can go on with their work as they tend to the client's queries on the virtual receptionist service. Your chat staff can as well answer different questions at the same time by engaging in other chats.
Live chat service is affordable for a business. When you compare the service to a phone call or in-person customer care experience, it is a less expensive option. Customer satisfaction should be on top of the priority list for businesses. Even so, it is excellent for a business if customer satisfaction is also affordable.
It will help in improving the brand image of a business. A live chat service makes your law firm appear interested in meeting your client's needs and potential clients. It will help build or uplift the reputation of your firm.
Cons of a Live Chat Service
People are on the internet 24/7. You need to assess whether you will offer 24/ 7 customer care services to your clients despite the time zone. You could end up disappointing some of your clients that may need their queries answered past business hours or the normal office hour.
The live chat service may not work on smartphones. Most internet users navigate through the internet using their phones. There are live chat services that do not work properly on mobile Smartphones. Even so, it is possible to adjust the software to function better on different mobile platforms.
To some people, the live chat services can feel impersonal. It may even feel like the user is talking to a robot. Older citizens may prefer a phone call because it seems more personal to them than a chat service. Using the right tone is vital in helping your visitor list know that they are receiving personalized attention.
Get a Live Chat for your Website
Choosing a cost-effective monthly plan and coming up with a law firm marketing plan will help in the success of an enterprise chat platform. You should as well make digital marketing predictions for law firms based on the average visitors you get on your website and conversion analytics of other firms using the app.
Law firms should adjust to a world that is increasingly getting used to instant responses. You should recognize that potential clients can quickly get their chat solutions from other law firms. For these reasons, law firms cannot afford to neglect potential clients.
If you are thinking about improving your law firm's response time and client acquisition, consider adding a lawyer-client chat live service to your website so you can provide excellent customer service.