Facebook is the king of social media marketing. It offers unprecedented access to nearly 2.5 billion active users globally, with over 70% logging in every day. In more localized terms, over half of Americans use the website in one way or another. With these numbers in mind, it is clear that Facebook ads for lawyers offer you the opportunity to reach a larger audience than ever before with ease.
Many law firms have discovered the role Facebook can play in generating fresh leads. You can get the most from your advertising budget by posting tailoring your posts toward the right audience to find new clients and increase your profits. While Facebook may make advertising and outreach easier than ever it is still important to know what tools you need to use and how to employ the right practices.
By working with GoEngine, you will be able to tap into a wealth of knowledge about different advertising practices and techniques. We will help you develop your advertising campaign and maximize its potential to drive new clients to your firm. Contact us today to find out how we can help you with your marketing efforts.
Why Should Law Firms Use Facebook Advertising?
Facebook offers the easiest and best access to your specific target audience.
Social media platforms like Facebook allow law firms to connect with their clients' lawyers form business relationships with their prospective clients, colleagues, and others who may be able to help them achieve success. Most attorneys rely heavily on referrals from existing clients for a large portion of their practice and the social nature of the profession translates quite nicely onto social networks like Facebook and Twitter.
Social media advertising excels at driving people to service-based businesses like law firms, making them an incredibly valuable tool. The platform draws one of the world's largest and most diverse user bases; it also drives activity on the website itself, with nearly 1.5 billion active users per day. Many of Facebook's regular users will also use it as a source to find businesses to augment or even replace a search engine.
If you do not advertise on Facebook, you run the risk of missing out on a large number of potential clients. Having a presence on Facebook establishes a possible first touchpoint for your business that can pay dividends to your development and promotional process.
Users who find you through Google or other sites will still be more likely to work with firms they can find and vet on social media. Lawyers aren't a widely trusted group in the eyes of the general public, and social media accounts can help you build a certain amount of credibility with your community.
In addition to all of the above, maintaining a basic Facebook page allows you to:
Build trust through social engagement and outreach
Demonstrate expertise through live-chat
Post ads to Facebook and Instagram
These reasons should be enough to get you interested in Facebook as a point of outreach. We will expand on them in the rest of the article below.
Benefits of Facebook Advertising
If you're wondering whether a Facebook advertising campaign is worthwhile for your law practice, here are some benefits to consider:
Build Trust
Law firms often struggle because they don't know what to promote.
Law firms aren't exactly mysterious; they're pretty straightforward and if you just create content around your services, there's nothing surprising here.
Fortunately, Facebook and Facebook Ads provide a platform where you can share valuable content that doesn't just promote your legal practice but instead shares useful knowledge and provides value for people who might be interested in hiring you. This is a valuable way to reach prospective clients through engaging and fun methods rather than the same stale legal ads they always see.
Content marketing, such as submitting a blog post, works best when used alongside social media ads. You're educating and entertaining your target audiences while building up your brand image and credibility. If you take this approach, you'll be giving your clients exactly what they want to see from their social media sites—and that means better results for you.
After potential customers read your valuable content, they not only become aware of your business brand but also start developing trust in your company's expertise and see you as an expert in your industry. Content marketing on Facebook revolves around targeting audiences and building relationships with them to establish yourself as an expert in your industry.
Save Money
Many lawyers know that Google ads or pay per click marketing are incredibly competitive because campaigns are complex, costly, and require lots of keyword research. If you're going to spend money on an ad campaign, know that there are ways for you to cut costs without cutting out anything important to your business' success.
This is where Facebook Advertising comes into play.
On average, Facebook advertisements generate one click per $2.15 spent. Google search ads, by comparison, lands on average one click per $40 and can easily go over $100 for the most competitive keywords for the legal industry. Facebook advertising, when used properly, can yield the best return per dollar spent on any of your advertising options.
Advertising on Facebook is Quick
Most legal advertisements are usually placed through print media such as newspapers and magazines, radio ads, direct mailers, etc., which takes longer than online marketing. From start to finish, it can take days or even weeks to plan and produce an ad for television.
If you want quick results and engagement from an ad campaign, then Facebook allows your law firm to boost their posts and ads take mere minutes to set up. Even if you're going to shoot a video for your Facebook ads, it is still typically quicker to use Facebook than the conventional mediums for advertising that law firms use.
Engage with your prospective clients quickly by crafting an ad campaign for Facebook advertising.
Use it to Recruit
The legal field has become more interesting and more accessible to a greater number of Americans in recent years. With this being the case, it can be beneficial for law firms aiming to recruit from among the next generation of lawyers to add a more modern sheen to their recruitment outreach. Facebook advertising can be a great medium for reaching this group in a way that television or print media simply can't.
Another perk of Facebook advertising is convenience. You can advertise for upcoming events such as recruitment drives you are planning or post a job listing to fill openings at your firm just as easily. Whatever recruitment needs you may have, advertising on Facebook offers you a creative and modern approach to reach legal professionals that may be interested in joining your team.
Reach Your Intended Audience
Facebook gathers and maintains impressive data records on all of its users. This data can be utilized by advertisers to target their ad campaigns to custom audiences. This sort of targeted campaign is a highly effective way to raise your conversion rate and get a much higher return on investment for your marketing efforts.
Here are some examples of collected data you can use to focus your advertisements:
Divorced or separated parents
Entrepreneurs, inventors, or others with an interest in intellectual property law
Age
Gender
Language
Education
Geographical Location. You can target your ads by region, state, city, zip code, congressional district, etc.
Interests that your audience has.  This could be general interest in law or criminal justice, or something more focused like divorce.
Behaviors. You can focus your ads on people who display certain purchasing behaviors or device usage, among others.
Connections among your audience. Reach lookalike audiences by targeting people who share connections with your existing clients.
Facebook offers you a direct line for advertising to people in a controlled and targeted way. It allows you to focus your marketing campaign in ways that simply weren't possible before the rise of the social media network. If you are not using Facebook advertising to reach your target audience, you are missing out on the enormous potential for growing your audience size.
Convenience
Lawyers are busy. You may not have the time to build a creative and high quality landing page for your website for each new advertising campaign. Facebook advertising can offer another solution to make your online advertising more convenient.
Law firms don't need landing pages to gather information on prospective clients when advertising through Facebook's Lead Ads. They allow you to place a form, customized to gather the data points you want to qualify your ideal client, directly within the ad.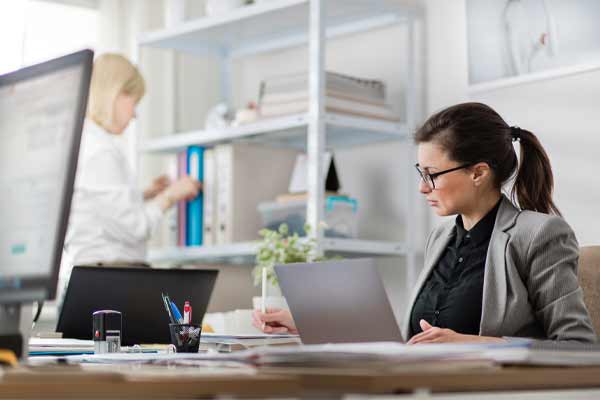 This system isn't just more convenient for you, either. It is quicker and easier for the user as well. The ad will include a call to action button, which will lead to a form. Their details and contact information will auto-populate from their Facebook profile, saving them time on having to enter everything themselves. Any information that needs to be updated, for example, a new phone number or email address, can easily be changed before submitting the form.
This is a highly effective and convenient method of advertising for new firms who haven't yet built a website, and for older firms who are running websites that need some work. It is a tried and true method for building your prospect pool and something that the team at GoEngine can help you develop.
Need Help With a Facebook Ad Campaign?
Facebook ads are a great way to introduce your legal services to new potential clients. Whether you prefer video ads or written posts, your original content can help you reach a wider audience and build trust with your connections. Facebook is far and away one of the best and most effective ways to amplify your legal advertising campaigns.
Digital advertising is more important than ever for any company, and law firms are no exception. It can also be a crowded and confusing medium to break into and understand. Working with a digital marketing company like GoEngine can give you the edge you need to stand out in the market.
Our team has developed unique strategies to grow our clients' follower count by providing informative content in many different forms. Infographics, video ads, news posts, promotions, and other original content are all proven methods to engage users, build brand awareness, and ultimately create new leads. Contact us today for a free marketing audit to see how we can help you build a stronger law firm marketing strategy.