A once comparatively short list of legal practice management software is now a crowded space full of many apps and vendors, all vying for your law firm's attention. In 2022, you have more options than ever for finding the right legal software solution to help you manage your entire firm.
It's understandably overwhelming for many attorneys that are just beginning their search for the right law firm management software. Fortunately, the legal digital marketing experts at GoEngine have got you covered.
We work closely with many law firms across the United States, and in doing so, have fielded hundreds of conversations about law practice management software options. What do law firms like? What don't legal firms like? 
From desktop-based to a cloud-based solutions, from case management to billing applications and accounting solutions: This list outlines the best law practice management software solution for law firms in 2022.
What Legal Software Do Lawyers Use?
First, it's crucial to note that there's no such thing as the best law firm software. The best software is the one that works for your law firm, and that could differ from what works perfectly for another practice in the legal industry.
When you're looking for a legal program, it's essential to think about what areas your legal practice needs the most help with. For instance, if your legal firm struggles with case document management, look for software with excellent case management capabilities. If billing is your weak area, software with exceptional billing applications will yield the biggest impact.
To help you find the best legal software platform for your law firm, we've compiled a list of 10 of the top law firm software vendors on the market.
Clio
Clio is a cloud-based legal practice management solution ideal for small to midsize law firms. This software enables law firms and other businesses in the legal field to manage client cases and legal files, track important deadlines, send invoices, and accept payments. This software provider offers multiple product services including:
Clio Manage - Organizes cases, provides client management, manages and tracks time, and offers billing solutions. 
Clio Grow - Automates client intake, schedules consultations, generates e-sign retainers, and simplifies contract processes
Lawyaw - Automates document management, creates e-files, and syncs data
The Clio Manage dashboard displays goals, billable hour targets, and tracks performance based on those goals. Clio Payments allow attorneys to receive payments via an operating account or directly into a client's trust. Its billing feature allows lawyers to manage fee structures, create custom bill plans, bill via email, carry out automatic or manual time entry, and let clients access information via a secure client portal or email.
The Clio mobile application for iPad, Android, and iPhone allows your staff to carry out document management, client interactions, track billable hours, and case management from anywhere. The mobile app also provides messaging tools and push notifications to help users stay connected. This CRM covers almost all the aspects that you need to successfully manage your firm.
One thing I'd like to point outs is their exceptional customer service. You get top-notch support around the clock from a simple question to complex integration, and their staff is always willing to help almost instantly.
Clio pricing depends on whether a law firm purchases the Clio Grow app, the Clio Manage app, or the entire Clio Suite but starts at $39 a month per user and offers monthly and annual payment plans. 
My Case
This legal case management software is ideal for collaboration with clients. It allows users to access online documents remotely. Also, it allows for safe online communication with clients through a secure online portal.
These features allow for increased communication with clients about the progress of their cases. It saves time by avoiding unnecessary client meetings and phone calls. It allows lawyers and staff to access documents remotely without being tied down by a local server at an office. Its automatic document management systems lack some features and have limited support for Apple software.
The application programming interface (API) for MyCase is limited to minimal software integrations. Also, importing contact information from other applications is limited, and currently backing up online documents is restricted to a new Dropbox integration.
MyCase has good invoicing, timekeeping, billing, credit card processing capabilities that enhance collecting account receivables, and starts at $39 a month for each user. These key features justify the pricing of the program.
App4Legal
This law practice management solution is designed for legal professionals: attorneys, assistants, paralegals, and managers. The product caters to both in-house legal departments and law firms. It provides services for contact management, corporate law, document management, litigation cases, time tracking, money management, and task management capabilities.
With App4Legal, lawyers can manage their law firm's legal and contact data. Its customer portal allows attorneys to delegate tasks within their team, streamline client communication, schedule events and share their calendars.
This cloud-based software solution also allows users to manage invoices, record expenses, and track the time spent on each case. The product is available both in on-premise and cloud-based deployment options and provides integration with Outlook. 
FileVine
FileVine is a cloud-based legal software with advanced customization abilities. The platform offers case and matter management, lead management, document management, contract management, business analytics, billing and timekeeping, and e-signature services.
The software automates deadlines and tasks managements to free time and streamline the workflow of law firms. It also includes an activity feed specific to clients and cases so that the entire law team can communicate and stay up to date in real-time no matter their location.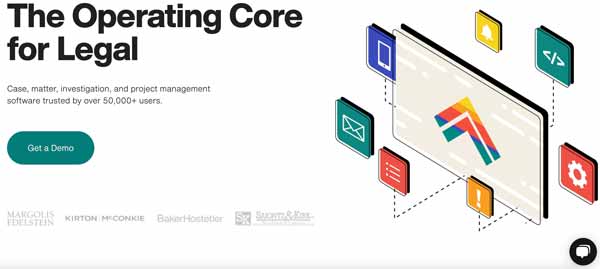 The customizable features allow legal professionals to tailor the software to their unique needs. This includes the capability of assigning roles, permissions and responsibilities within the system.
The client management feature allows the tracking and management of all client interactions, including email management and texting features within the secure system of the FileVine cloud storage platforms. This service allows firms to customize their application suite based on the needs and budget of their business.
PracticePanther
This all-in-one legal practice management solution allows efficient automation through any device. It touts an automated client onboarding process and a client portal that allows the sharing of updates, documents, secure messaging, and task assignments.
PracticePanther also includes CRM, time tracking, billing, accounting, calendaring, email management, and task and workflow creation. This software is intended for small law firms and is about $50/user/month and also includes a free trial. 
Law Ruler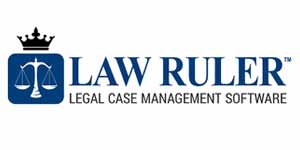 This software for law firms specializes in CRM and marketing automation and is the right fit for practices looking to grow their client base. The CRM service manages the information of each existing and potential client.
Automated marketing sends personalized texts and emails to develop relationships with leads and prospects. The platform also features automated client intake with a customizable form and document builder.
By providing custom-generated reports, Law Ruler allows any legal practice to track and develop its marketing needs. It also integrates with Gmail, Office365, Rocket Matter, and dozens of other applications to create a centralized database.
Law Ruler's pricing is based on the size of the firm and the number of users starting at $169/month for three logins. However, due to their successful marketing strategies and time-saving features, they are worth the cost to many.
Smokeball
The most notable features of Smokeball legal management software are the automatic lawyer time tracking and insight-reporting to identify profitable cases and recommended pricing.
Both of these features optimize a firm's ability to generate profits and is a great software for attorneys seeking to increase revenue.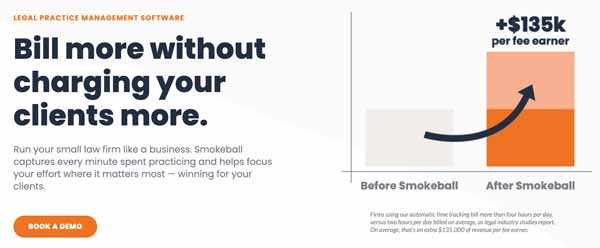 The platform also includes legal document automation and management, a client communication portal, customizable workflows and tasks, e-filing, a mobile application for the legal team, a legal forms library, case management, email management, lead management, and time and billing.
The basic billing package includes a free trial then $29/month. The best profit optimization package is $149 per user per month. 
Zola Suite
This practice management software offers dynamic CRM for prospect and intake client management, matter management, built-in email management that works natively with your existing account, document management and automation, task management, advanced billing and accounting, and robust reporting.

Founded by a tech entrepreneur/attorney, the stand-out feature of Zola Suite is the clean, beautiful, and intuitive user interface that is driven by the needs of the law office.
This customizable suite of applications begins with basic pricing at $59/month and tops out their plus package at $89/month.
Rocket Matter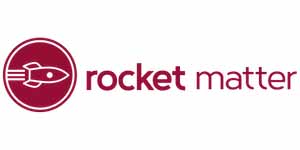 Rocket Matter is a legal practice software that provides solutions for solo practices, small firms, and mid-size to large firms based on individual needs.
It covers the administrative needs of the law office, including time management, billing, accounting, case and legal project management, document automation, online payment processing, and advanced reporting.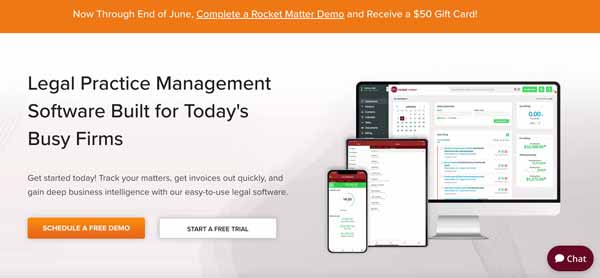 Rocket Matter also integrates with many programs including Quickbooks, Google Calendar, Dropbox, Office 365, and many more. They are known for great customer service and affordable pricing.
This easy-to-use legal CRM starts at $39 per month for each user and is available on iPhone and Android devices, allowing your legal team to track matters, communicate with clients, and view documents from anywhere. 
InfoFlo
This is an integrated customer relationship management (CRM) platform that you can access online or install on-premise. The legal software offers computer telephony integration, marketing, and sales automation, contact management, and customer support.
Lawyers also have access to InfoFlo's core features, such as appointments and meetings, email marketing, Skype and Outlook integration, project management, and task management, all of which you can do amongst teams in real time.

InfoFlo also helps attorneys build a personalized CRM for their business needs and size. Starting at $99 per user, this platform can be used by small to midsize firms in various industries, including legal, software, accounting, construction, healthcare, and real estate.
Also, it provides email marketing, project management, and invoicing modules as add-ons.
What Should You Look For in a Management System For Your Law Practice?
Legal software for law firms allows attorneys to manage contracts, clients, case files, and accounting operations, such as invoicing billable time and recording. This means that they offer a combination of document management, CRM, accounting programs, scheduling/time tracking, and project management features specifically for attorneys.
These tools automate basic procedures, such as:
Preventing duplicate data entry
Checking statutes of limitation and checking for conflicts of interest 
Promoting secure sharing of information within the firm
This software also allows users to draft documents, create to-do lists, and track emails, calls, and other forms of communication. A calendar is a major feature that's crucial to setting up reminders for calls and deadlines and planning case timelines. Most legal software, for instance, integrates with users' personal electronic calendars to provide alerts and daily schedules on mobile devices.
Lawyers should make sure that the legal practice management solution they choose is sufficient for creating invoices, tracking billable time, and other accounting operations required by the law firm. Some legal practice management software integrates with accounting programs, while others don't require users to use separate accounting systems.
Law practice management software simplifies all daily business operations of your law firm, such as client and case document management, records, appointments, deadlines, schedules, and accounting. If your legal team is trying to manage these operations manually or with several different software, having an all-in-one legal system can maximize the way your law firm operates.
What are the Core Features of Law Practice Management Software Solutions?
Legal practice management systems provide attorneys with secure document storage for all of their law firm's information. This creates a workflow environment with better access to information and enhances coordination across a wide range of tasks. Every member of your legal team has access to the most up-to-date contact details and case files at all times.
With the right software systems, you can complete administrative tasks more efficiently with less chance of error—making sure that you miss nothing. Legal practice management systems can help you achieve this across all administrative operations within a law firm.
Case management: A good case management system can help you access the legal files you need and stay organized.
Legal document management software: Make sure you can store, edit, and organize your documents securely.
Billing software: This ensures you can bill in a way that's efficient for clients and effective for you. Good accounting software helps you receive payments faster and automates time-consuming operations.  
Contact management: A good contact management system allows you to manage all your contacts and clients and makes sure you never miss a client interaction.
Calendaring: An effective calendaring system helps you stay up to speed with deadlines and keeps you connected on the go to your clients, cases, and work.
Task management: Helps you organize your to-do lists, manage your team's productivity and workload, and see task progress.
Online payments: Accepting online payments makes it easier for clients to pay you, which ultimately makes it easier for you to receive payments faster. 
Expense and time tracking: A robust time tracking system and accounting software allow you to spend less time tracking billable time and more time billing for them.  
Legal insights: You need to know your law firm's realization, utilization, and collection rates so you can make educated business decisions. Getting an in-depth view of your law firm's performance can help you identify opportunities to boost efficiency, productivity, and revenue.
Which CRM Provider Should You Choose?
While ultimately the best software you should use for your firm will have all of the features your business requires. Most of them offer free trial periods so you can try and determine what will work best for you.
It is worth noting, however, that Clio, My Case, and PracticePanther have all been in operation for over 10 years and have become leaders in the industry.
Find the Right Legal Practice Software to Scale Your Law Firm
Your next step is to contact GoEngine for help with digital marketing law practice and website development.
We're an established digital agency and our marketing experts are well-versed in what it takes to take your law firm to the next level and attract more clients. Contact our team of experts today and schedule a free initial website audit.