Today, our buying decisions are guided by stars. We value a five-star review as much as personal recommendations from friends, colleagues, or relatives, and anything less than 3 stars isn't worth our time. Like it or not, we live in the consumer-driven age of online reviews.
When searching for a product or service, nine times out of ten we conduct an online search first. Whatever the search results bring us, we click through. We read online reviews, we count the number of stars, and 90% of clients base our buying decision on what the customer reviews say.
In fact, 72% of customers trust online review sites as much as they would a personal recommendation from an old friend. It goes without saying that online reviews are an incredibly powerful tool for your law firm. Beyond the psychological impact that they have on prospective clients buying decisions, they can also help improve your local SEO rankings so that your law firm shows up first when future clients are looking for an attorney in their area.
However, many attorneys are hesitant to ask their current clients for reviews because they assume one bad review can hurt their positive reputation. Out of fear of straying from the image they hope to convey online, they prefer to have no online reviews at all. That's a big mistake.
Law firms that rank in the 3-pack tend to have over 4.2 stars and an average of over 50 total reviews. Goes without saying that the more positive reviews your business can generate the higher the chances of ranking.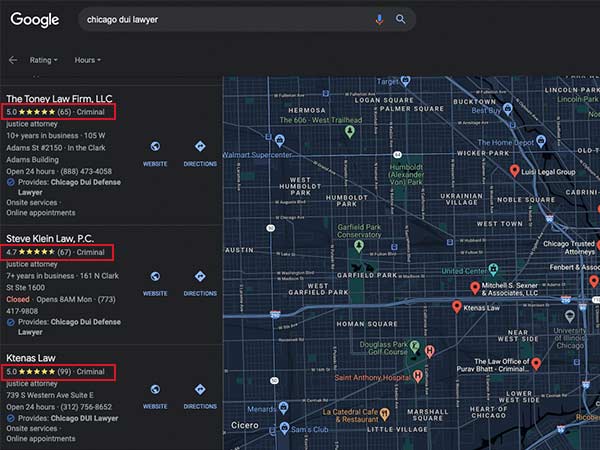 How Can Google Reviews Benefit My Law Firm?
Google monitors your law firm's ratings and will boost your online visibility based on how many ratings you have (among many other factors). If you can manage to get enough online ratings, you can rank your law firm to the top of Google search results which lists the first three law firms in the area that match a user's search query.
This is called Google local pack, and they come directly from the Google Business Profile (formerly GMB). Again, another reason that attorneys should have a Google My Business profile.
A good review on Google can sway even the most skeptical of clients. 74% of clients say that a positive review on Google makes them more likely to trust a business. Simply put, potential customers view Google as their one-stop internet concierge to show them what's hot and what's not.
Google bases your search ranking on how much you interact with your client reviews. So, before you think that you only have to respond to negative reviews, don't forget that you should also be responding to the positive ones. Google pays attention and recognizes active responses.
So, make sure you visit your Google business profile regularly and respond to every single review. Apologize when it's needed and say thank you when it's called for. Think of your Google business profile as a garden — you have to sprinkle it daily with customer interaction for it to become a lead magnet.
When prospective clients visit your business profile and see a high rating, they'll naturally gravitate towards your law firm's website. Consequently, you'll improve your click-through rate giving you a chance to reach your target audience even more.
How Do I Deal With Bad Google Reviews?
Lawyers reading a negative review and false review of their law firm, shouldn't react emotionally. An angry response is likely to worsen the problem. You may come across to other clients who read your response as unsympathetic and unapologetic to the views of disgruntled clients. Assess the claim before you respond:
Establish who the author is. It could be a disgruntled client, but it could also be the opposing party in a case your law firm handled. You may not be able to establish who the author is.
See when the negative review was written. If the review is recent, few potential clients may have read it.
Conduct online searches to see how easy it is to find the bad review.
Assess the reasonableness of the negative review. Establish if you can solve the reviewer's issue or clear up a misunderstanding.
What is your law firm's best response to bad reviews? The answer depends on the specific situation. Generally, you should respond in one of four ways:
In some cases, the best response is not responding at all. The bad review might not be so bad that customers will take it seriously, or the negative review might have been posted several months ago without any adverse consequences to your firm. If you discover the bad review is having a negative effect, respond to it as soon as possible.
You can flag or tag a false review as inappropriate or as violating the site's terms of service. The site will send an automatic email to the reviewer stating that their review was flagged and asking them to consider rewriting it or reposting it. The reviewer gets 7 to 14 days to respond. If they rewrite the review or repost the original review, then the online review process is over. If the time to respond expires, the bad review will come off your website. However, you must make a judgment call as to whether the author will take no action or write a worse review or more negative reviews on other websites.
Reach out to the reviewer. You may respond to the bad review and invite the author to contact you privately. potential clients will read your response and see your concern and willingness to discuss the issue with the reviewer.
Respond publicly. If the author isn't a past client or it's a fraudulent review, explain the situation publicly. Be professional and think about the effect your response will have on others. You can negate the negative review and present yourself as a law firm others would want to hire.
Respond promptly to bad reviews. You want the authors to rewrite the review or write another review before many prospective clients read the bad review.
One way to reduce the damage from a bad review is to offset negative reviews with positive reviews. The more positive reviews your law firm has, the less impact a negative review will have on your law firm's rating and its online reputation. If your law firm has a five-star rating and a one-star rating, your rating will drop to three stars.
If your law firm has a one-star rating along with 15 four-star or five-star ratings, the effect of the one-star review on the firm's overall rating is minimal.
Encourage happy clients to leave reviews. Make it easy for them to leave reviews. Potential clients read customer reviews. One of your satisfied client's reviews may help you land a new client.
Why Do People Leave Fake Reviews on Google?
There are two primary types of fake reviews on Google:
A fake review where the author wasn't an actual customer and posted a review that doesn't reflect a genuine interaction with a business, and
A fake review where the author was in fact a legitimate customer but posted a review with an ulterior motive or malicious intent.
The first type of fake Google reviews usually falls into one of two categories: (1) the false review was written by your competitor or ex-employee, with the purpose of taking your business's online presence down a notch, or (2) the negative review was written by a third-party who has a grudge against your business.
Maybe the author didn't like how you market your business, maybe a colleague or friend of the author previously engaged your law firm, or maybe the author was just trying to gain an edge in an otherwise competitive marketplace.
The second type of fake Google reviews usually occurs where a real customer had genuine interaction with your law firm but described a situation in their Google review that's contrary to what took place – often with an ulterior motive or malicious intent in mind. This can take the form of an author creating multiple online accounts and aliases, pretending their interaction with your law firm was worse than it was, and describing a poor experience that never actually happened.
This second type of fake review is typically posted in two primary situations:
For purposes of extorting your law firm
When you're just flat out dealing with a malicious person and you did nothing wrong.
Google Reviews: A Crucial Part of Potential Clients Decision Making Process
We will see more than ever why customer reviews are essential for law firms in 2022. Google reviews will continue to play a significant role for clients searching for an attorney, so it's time to prioritize Google reviews as a part of your law firm's marketing strategy.
To build a five-star reputation for your firm, you must give your legal clients a reason to leave a positive review.
One of the best ways to do that is by leveraging legal software to automate your processes. Automation features, such as two-way SMS text messaging for law firms, drip campaigns for law firms, and automated appointment scheduling give every client the impression that they're your only client.
At GoEngine, our team of nerds can help you optimize your website to encourage your clients to write reviews for your law firm. To schedule a no-cost initial consultation, contact our legal SEO experts today.